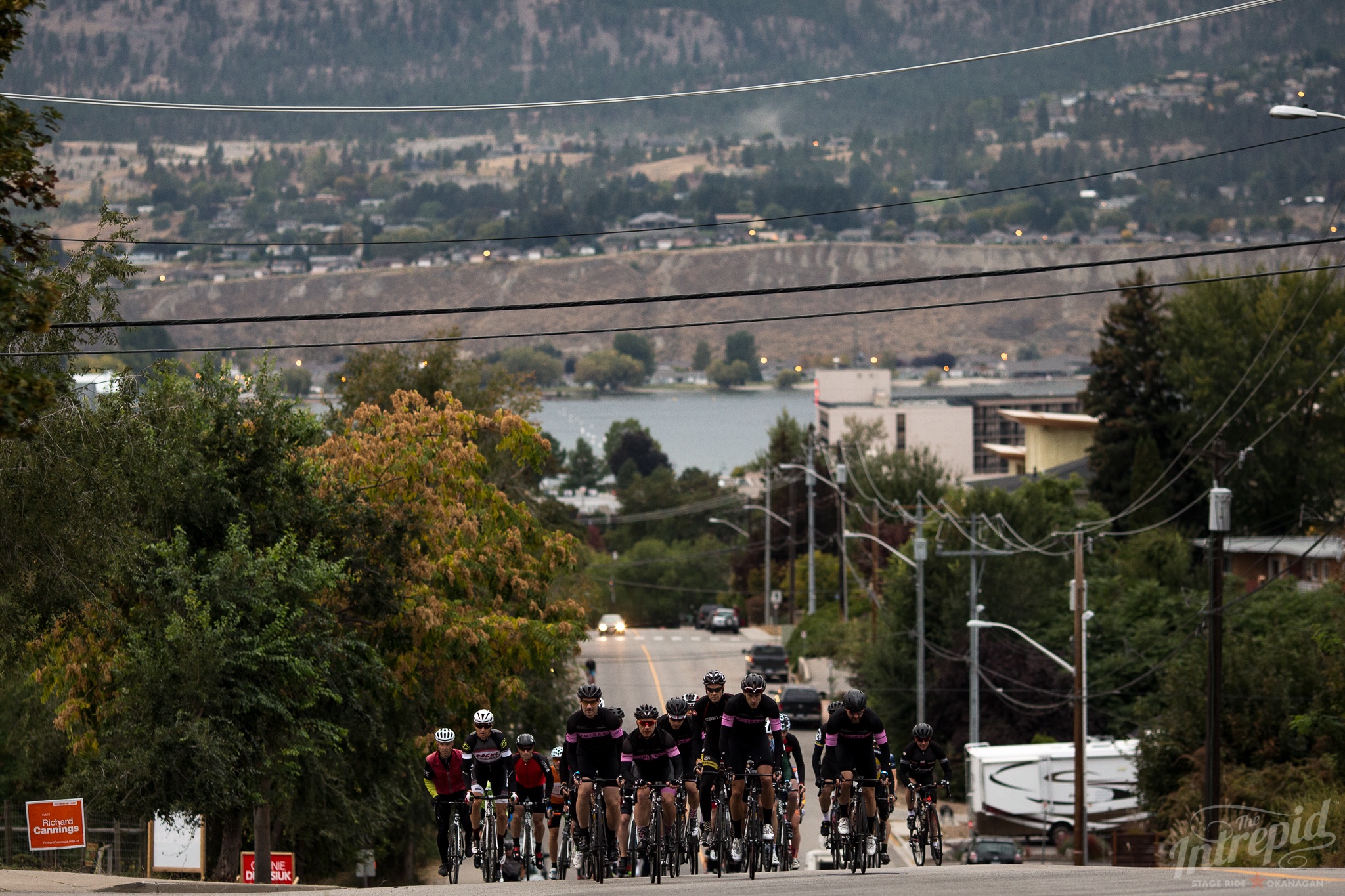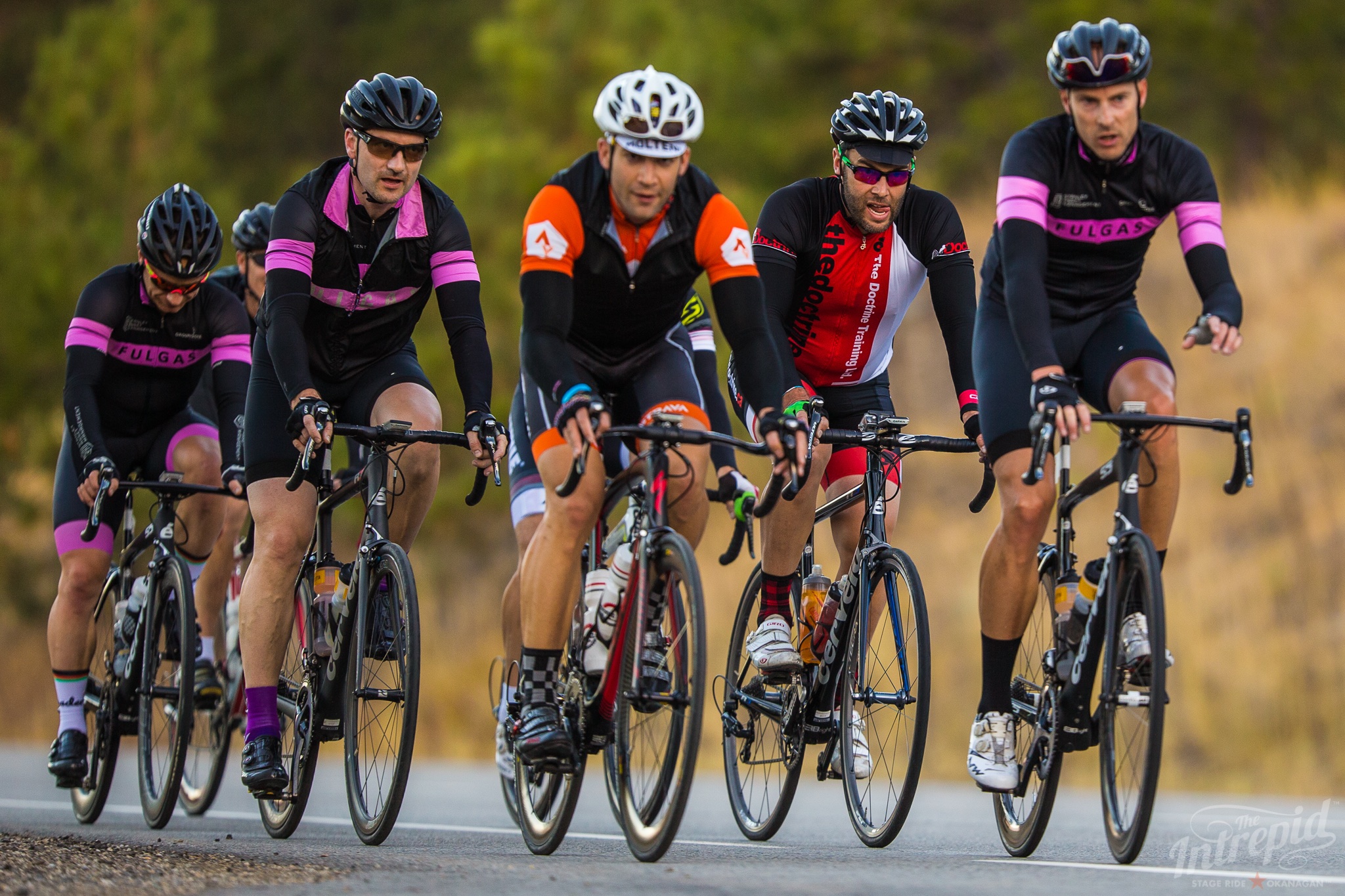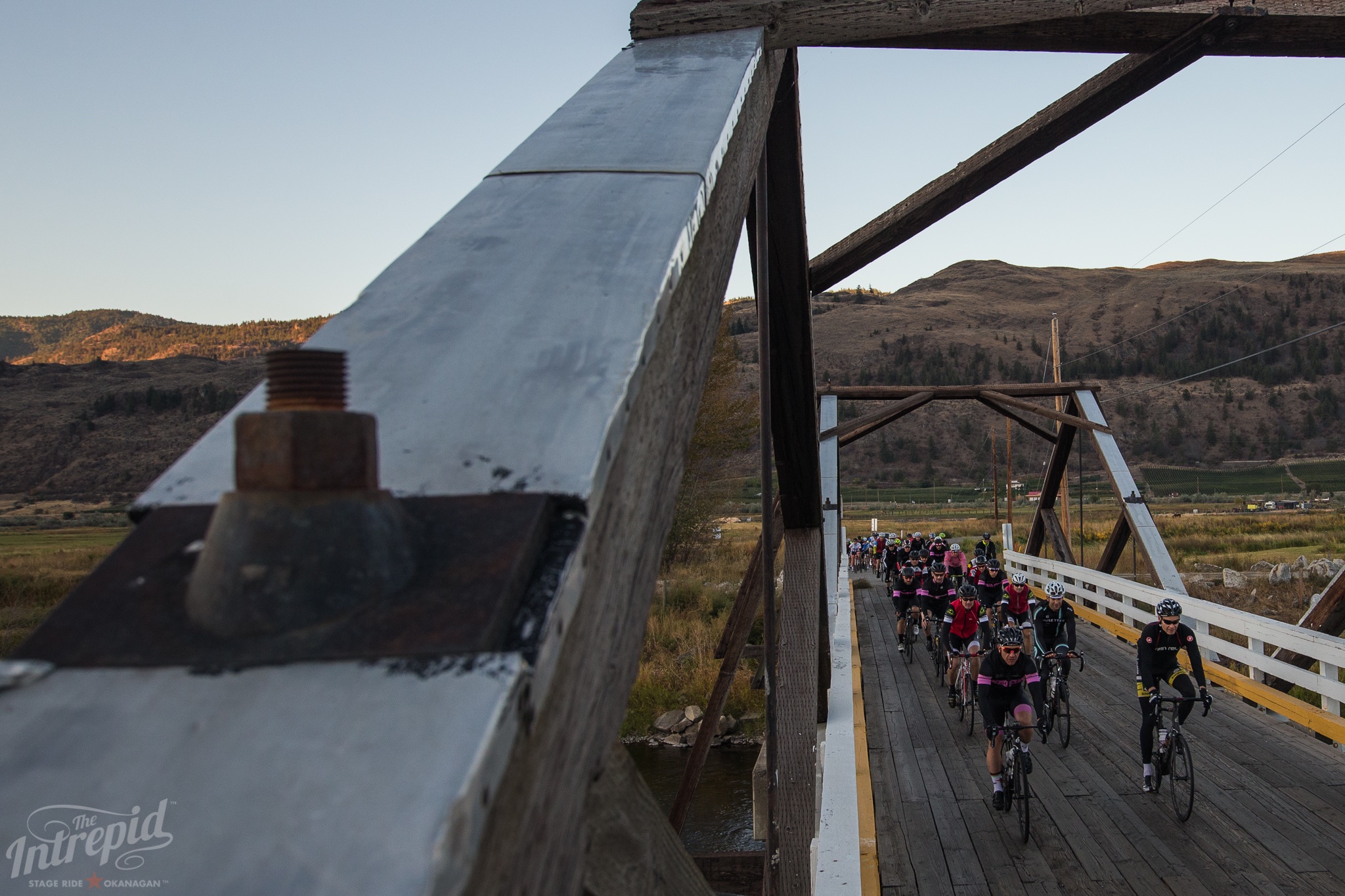 September 25-27: The Intrepid is a three day stage race in the Okanagan. It's one of the premier road cycling events in western Canada, put on by the same folks that run RBC GranFondo Whistler. The experience was really something special: rides were fully supported with massages after every stage, it was fully catered with great food, and run by an amazing event team for whom no ask seemed too onerous. Unintentionally, I ended up putting this to the test, because as it turned out, it was quite an eventful three days...
Stage 1: Penticton–Osoyoos. 115km / 1,708m elevation gain
Home base was Penticton and the first day's riding would see us roll north alongside Okanagan Lake, warming up the legs before turning around and heading south past Skaha Lake on the way down to Osoyoos, by the US border.
On the first day everyone's excited and a bit antsy to get things underway. The flip side of this is that some can be a little too social in the bunch and not be paying enough attention. About half way through the stage, some guys up ahead of me got lazy, touched wheels and three of 'em came down right in front – it was an unavoidable scene and while I managed to bury some speed I came down too. The one thought I had in my mind was "pick a different spot pick a different spot!" (crashes seem to happen in slow-mo), thinking about the fact that only a few weeks prior, I was taken out in another race in California, and the road rash from that spill had only just healed over.
Thankfully, no-one was seriously hurt and there was no major damage to my bike (or so I thought – more on that in Stage 2...). With that being my second crash in one month (neither my fault), and having never crashed on my road bike ever before September 2015, I was definitely not stoked with my luck. That said, that's racing and part of it is rolling with the punches, which means getting back up, straightening out your equipment and getting on with the race.
I had a plan to execute. Hills tend to be a natural separation point in most road races and the big one in Stage 1 was appropriately named "The Wall": 1.5km of 9% average grade and a total ball-buster with a couple of 20% pitches thrown in. Naturally, this was also the KOM segment for the stage and myself and about five other guys attacked it hard. At the top was a checkpoint with an aid station (where you could stop and refuel) but for an opportunistic few we rolled right through slowing only to communicate our race numbers before continuing the attack, in hopes of further separating ourselves from the bunch.
Within a few minutes I found myself with two others working together as a three-man breakaway with 45km to go. We knew that if we stayed away from the bunch we only had each other to worry about at the finish and it was at this point of the day that I really started having fun. It's really an awesome thing when you find yourself racing with a couple other strong riders, pace-lining seamlessly and just absolutely flying down the road. It's exhilarating.
This sense of team is awesome until it naturally dissipates in the final few kilometres as – knowing the pack is too far back to be of concern, you're competitors once again and it's now a game of cat and mouse... who's gonna make the jump; who can out-sprint who for the line.
In the end it was a bit anticlimactic as frankly, I didn't quite recognise the finish line flags and didn't time my sprint right – but finished right on the wheel of the stage winner and and happily took second overall for the day.
Stage 2: 152km / 2,645m elevation gain and a catastrophic mechanical failure
"Everyone has a plan 'til you get punched in the face" – right? My race plan for stage two barely got started as once again, about half-way into the day, calamity struck. Something happened to my chain: I still don't know whether it was a rock, a stick or something else, but the chain jammed, snapped, somehow wrapped itself around my rear derailleur and then tore the thing right off my bike. No joke: the derailleur hanger was torn clean in half, as was the derailleur cable. Worse, the chain wrapped itself around the cluster a number of times and then ground out the inside of the carbon stays... not awesome.
Indeed, a "catastrophic failure" and the Venge (my primary bike) was out of commission. The bunch rolled on and I knew from that point, it was going to be a quiet day of solo riding and trying not to lose too much time in the overall classification. Thankfully, the Velofix van was 5 minutes behind and one of the race volunteers gave me his personal bike to finish the day on (these guys really pulled out all the stops to keep you going and get you home). It was a long 78km riding a 54cm bike solo into the headwinds (getting aero... not so much, ha!), but I was grateful to be riding and simply to be able to finish the day.
Lots of speculation ensued (no-one had ever seen a derailleur torn right off a bike and spat out the back!!) as to whether something on my bike took a hit in the crash the day before, and that might have contributed to the mechanical / structural failure. Who knows. UPDATE: we later found that the derailleur itself was damaged in the crash on Day 1, which ultimately contributed to the chain fail on Day 2.
Stage 3: Osoyoos–Penticton. 122km / 2,597m elevation gain
The goal was 'uneventful'. "I want an uneventful day today!", I told my fellow riders and the event crew (all of whom had been incredibly helpful and supportive). After the last two days, I was keen for an injury-free, mechanical-free ride. I was on a spare bike (I'd actually brought a spare – who brings a spare?!) but left it in Penticton, thinking to myself "I'm never going to need that!" Sure enough, on the afternoon of day two I was in a van with one of the event team driving back to Penticton to grab it. This once again exemplified the greatness of the event team – it was no hassle; they were absolutely amazing.
Back to day three: the thing about my primary bike – the Venge – is that I've worked with Noa Deutsch to get it fit just perfectly to my body and all its imbalances. Bike fit is crucial because it enables you to hop on a bike and perform a very repetitive motion for a long time without overly stressing anything biomechanically. So jumping on a different bike, with a fatigued body, for a day that would include the longest climb of the race... was going to require a different approach.
So the plan was: go easy until the base of Apex mountain, hit it on the climb, then keep pushing all the way home on the descent into Penticton. This turned out to be a really nice approach, as the lead bunch wasn't really driving the pace on the third day, as was the case on the previous two days. It gave a chance to ride with some folks whom I'd not had the chance to ride with, and also, a bit of time to soak in the beautiful scenery of the Okanagan. It really was stunning; early on in the day, we were rolling through the hills and were lucky to be joined by some wild mustangs, who criss-crossed the road from time to time and kept us all on high alert! Wild beasts, hillsides, sunrise, bikes... I couldn't have been happier.
Once we hit Apex, it was time for business and a long, hot climb. The descent was tricky too with a few cattle grids to bunny hop at speed which... only gets riskier the more you think about it!
Then the push home: it's a delightful 20km descent back into Penticton from the turnoff to Apex, but it's only a 2.8% average downgrade, so you need to keep the power on the whole way home. I drove hard and wound up taking the win on the Soloist category for the day. Stoked!
Overall
Overall, the mechanical failure in Stage 2 cost me half an hour in the general classification and I finished second in the overall standings. All said and done, I was happy with the weekend, mostly for being able to keep going despite the curve balls. That felt really good mentally and I was proud to have kept my head up, stayed strong and done the best with the cards I had to play.
The Intrepid was a great weekend. Great challenge having to back up day after day ; that was my first stage race. And, fun to do that with some wrenches thrown in the wheels, so to speak... that's racing, and I'm looking forward to doing another stage race in the future!
Note: photo credits in this post are almost all due to The Intrepid and their stellar event photographers (look for the watermark). Thanks again guys.