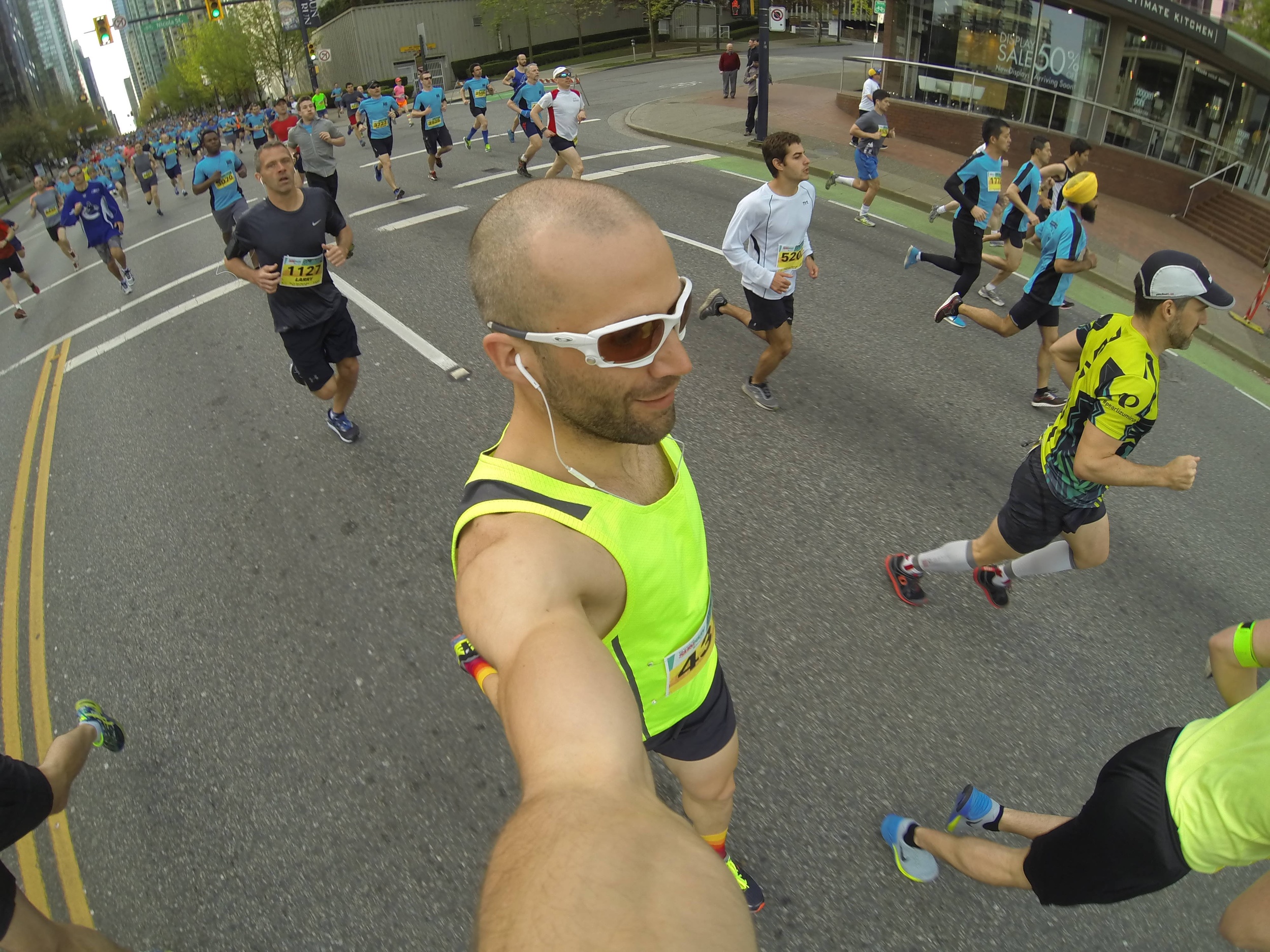 I love the Vancouver Sun Run because it's just, so, Vancouver: 43,000-somethin'-odd runners (this year), we take over West Georgia Street, the course is lined with supporters, and the race is accessible to everyone from wheelchair racers, to pro runners (the winner ran it in 28:52!), to families walking it with strollers. It's an incredible excuse to get out with the city and be a part of an awesome, decades-old tradition – this was the 32nd instalment of the annual run, held on Sunday, April 17th, 2016.
Intention
In the context of my annual race schedule, this was a 'C' priority race meaning it's just another workout on the plan for the week: its purpose was racing-as-training, not to run my fastest 10k (although that'd be nice!). I knew it was going to be a hard one as the plan was to go for it and try to break 40mins, whilst not losing sight of the fact that the intention of doing this event – aside from getting a hard workout and being a part of a special Vancouver event – was to practice race day protocol.
Race Day Protocol = all the things you do in the 12-24 hours before arriving at a start line. It includes: preparing all my kit the night before. Preparing what I would eat for breakfast. Setting the alarms. Getting up, eating, showering, doing physio exercises, mobilizing the body, putting my kit on. In that order. Paying attention to all the details. Getting into the right headspace, and staying there. This gets challenged when you get on a bus heading downtown and it's full of other runners with lots of nervous energy. I hopped on a bus, looked around at all the other runners, and that was when I felt my heartrate rise and nervousness level increase. It's good to expose yourself to that frequently because the more you do it, you become less sensitive to it, and the more relaxed you can be heading to the start line. And even then, breathe. Control the response. Remember, it's your race. Racing as training is a great way to practice your Race Day Protocol and make progress on the mental side of your race preparation and execution.
Mood boosters
When I know I'm going to show up to a start line feeling less than optimal physically (heavy legs, tired, etc) anything that can help boost how I feel mentally or physically is worth considering. In this case, I wore some dope new socks (definitely won the sock game on Sunday, if I may say so) and put together a race kit that looked wicked. Dressing for success is as true for sport as it is for any other area of life. I gave the legs a fresh shave (again: Athlete mindset. Be ready for action). I also knew that I didn't want to be 'in my head' so decided to listen to music on the run (something I don't do in most events), made a hard-hitting playlist beat-matched to a running cadence of about 180 steps per minute, so I would just lock onto the beat and move my legs to that.
The Race
A 10k is pretty much a red-line effort the whole way for me and that was the plan, plain and simple: stay out of trouble early on (there are so many people to dodge!); then get to – and play with – threshold and push it to the finish line. It's a mostly flat course with just a few inclines involved in getting onto (and over) the bridges. So pretty easy to find and hold a rhythm, and to power through the tough spots.
I had a running buddy – Chad Clark – and we knew we'd use each other as pacers for the first bit and then see how it went: we were both clear that if either of us was feeling good and wanted to go for it – they would go for it!
I felt steady and strong the whole race through – but when I got into the final kilometre, I had no kick in me. Chad lit the jets with about 2km to go and I tried to lift to keep him in sight, but the legs just weren't having it. The pace crept up in the final 500m, but that was due to the downhill of the Cambie bridge offramp, not a surge in leg power!
Here's a screengrab of the data from the race (from Strava):
Overall
Official chip time: 40:50. Not my fastest 10k, but a damn hard workout and a race day well executed. Mission accomplished!